Loving God through loving others.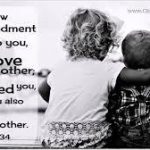 When you think of February most people think of Valentine's Day, a day to celebrate love. Well, love is who God is; we should celebrate in His love every day. How? A new commandment I give to you, that you love one another; as I have loved you, that you also love one another.  John 13:34
Through your prayers and giving, we were privileged to share God's love in many ways this month!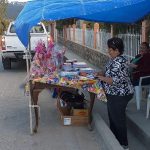 Our sweet missionary friend, who we helped out financially last month, has a small store front in her yard. Unfortunately, their house is not on a busy street and there are not many customers. A few days before Valentines, we loaded up her things in our truck and drove her and one of her friends down town so she could display her goods and make some extra money. The sun was hot so we sat up a tarp & tables and she was in business! It was a successful day for her, and her customers were pleased to purchase many items at a great price!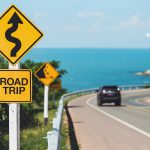 Again this year we were asked to take a road trip and help our friends in La Ceiba as they hosted a team from Charis Bible College, the college in Colorado we attended. This mission campus, Whitefields, is located in La Ceiba about 5 1/2 hours away but we always love and appreciated all they do. The road trip was definitely worth it.  We especially look forward to being this close to Charis again.  You may also remember that we purchased our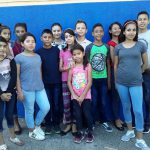 truck from a missionary and his wife in La Ceiba.  The truck has been such a great blessing.  That couple has "adopted" 13 orphans. (Adoption here is long & complicated so some of the children are not officially adopted but all are theirs) We contacted them and asked what 'Heart of the King Ministries' could do to help them out.  We and you were privileged to purchase new tennis shoes for all 13 kids and provide a fun lunch of pizza and sodas! What a great day! All the kids were loaded into a van and we took off. After about 10 minutes we looked around and most of them were asleep resting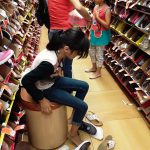 peacefully. Once at the mall we unloaded and headed for Payless. I was with the girls and can testify that girls are girls! They loved the shoes with glitter and sparkles but knew they would not hold up to play ball in, the decision was hard but each girl made the correct decision to get cute, nice, but plain tennis shoes. Gene went with the boys and said they scanned the shoes, took a pair down, tried them on and were happy with their selection.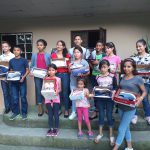 After about an hour everyone had the shoes they wanted and we checked out. Next we went upstairs for 'Little Caesars' pizza.  The older kids lined up about 5 tables and chairs and everyone found a place to sit. The pizza was so good and the children as well as adults all enjoyed our lunch. Each child thanked and hugged us many times; we pass these appreciations on to you and hope you receive the joy that comes with them.  Our thanks to Whitefields for lending us the van and to Vicky Skelton for driving us to and from the mall. Oh yes, Whitefields provided dessert, ice cream for all.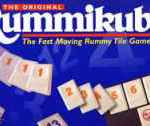 We returned to the Whitefields campus to prepare for the Charis team to arrive. The day left us all tired so after dinner we played RummiKub then went to bed. Sunday morning we slept late, each of us getting up and having our own devotional then we checked each cabana (small house), to be sure all items were in place and they were ready for the team members. Then we looked over the kitchen to become more familiar with where everything was;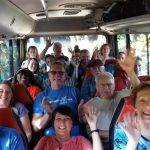 food, drinks, pots, pans, plates, cups, etc.  Everything was in place and we felt ready! Monday morning we traveled to the local nursing home. There are about 26 residents, very sweet people that sit on the porch in rocking chairs every day. We heard they do have several regular groups to visit and share about God with them so we are thankful for that. We talked with each person, sang with them then Gene gave a teaching on "Gods' love for you". Afterwards we went to the mall for lunch. Tuesday was the day the team was to arrive. The scheduled time for the team to get to Whitefields was around 7 but due to flight delays they did not arrive until 8:30.  Dinner was ready, homemade tortillas made by Whitefields housekeeping ladies, rice and beans; a typical Honduran meal. It was delicious and the team devoured it all! After a quick welcome speech, everyone was off to bed.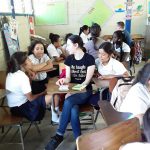 The team was busy Wednesday through the following Monday with visits to the local school, the orphanage, a Compassion International School, a local village and the nursing home as well as Bible Clubs where the children would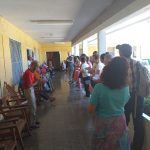 come to Whitefields to play, sing and hear Bible stories. We did not get too participated in many of the activities but had a great time preparing meals and doing small jobs that needed to be done around the campus.  We did participate one evening in prayer with the team.  It was especially good to feel "a part of Charis" again. The team was a great blessing to the children, senior adults, Vicky & Allen, campus workers and us! Seeing the excitement in the faces of the children and in the faces and voices of the team members made us aware of how much God loves and cares for us all.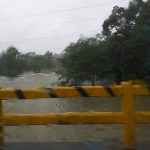 The team left on Tuesday morning so the kitchen was put back in order and the tables & chairs stacked up. Wednesday morning Gene and I went to the local Nissan place to have the lock on our truck replaced. It was a year ago that our truck was broken into so when we were home in December we purchased a replacement lock for the door. After a few hours the truck was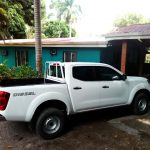 tuned up, lock replaced and we were ready to go. We stopped by the local Walmart, yes there is a Walmart in La Cieba, whoot-whoot! There, Heart of the King ministries purchased cereal, powdered milk and cups so that the children of the local school near Whitefields could have breakfast. That night, Wednesday, it started raining, I mean pouring rain. The next morning water was everywhere so we could not take the cereal to school for the children. Vicky told us that since there was so much rain, the children probably would not show up for school. Many of them have to cross a river on their way to school and with so much water they would not be able to cross it. So we
waited on serving the cereal for Friday morning. Friday morning, still raining, lots of rain. Vicky drove the 2 blocks to the school and came back and told us the teachers showed up but none of the students did. Gene & I needed to get back home so we left on Saturday leaving the cereal & milk for the following week. It was still raining when we left…3 days of hard rain, how can clouds hold so much water?  Two hours out of Ceiba, the rain stopped and we had a nice clear drive back to La Esperanza. Vicky and intern Carol were able to distribute the cereal on Monday and the pictures show lots of children with happy faces.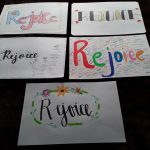 While we were gone Gene missed 2 weeks of teaching at South West School. The students were blessed by the teaching of our missionary friend, Jaclyn. She taught on Philippians 4, don't worry, rejoice in the Lord always and think on good things. The second week she taught, she had them think about the word "rejoice" and draw a picture of the word while meditating with the Lord. We are laminating the drawings and will give them back to the students as reminders of how to live a true Christian life.
We praise God for all that was accomplished to bless the people of La Cieba! We thank you for your prayers, encouragement and financial support that fed many hungry children, put tennis shoes on little feet, gave smiles to the elderly as they rocked the day away and blessed a ministry in La Cieba!
We love being "the love of God" to the people here in Honduras. Thank you for all you do!
Gene & Robin Willis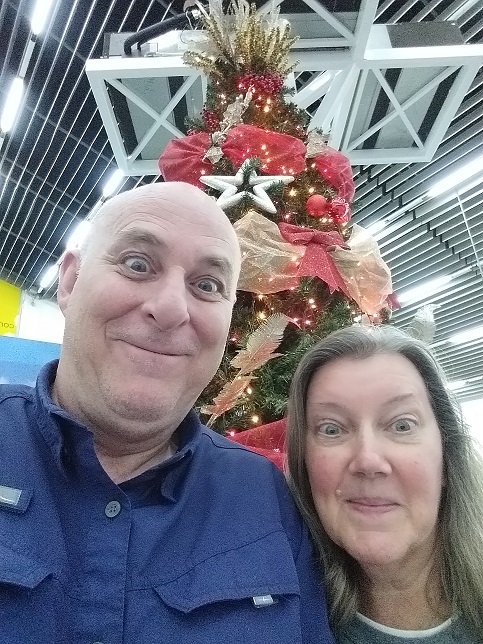 If the Lord leads you to support our ministry financially, all gifts are tax deductible and should be mailed to:
Heart of the King Ministries
115 Creden Pl
Alabaster, AL. 35007
Checks should be made payable to Heart of the King Ministries.
If you would like to use a credit or debit card or your PayPal account,
PayPal is available on our website at this LINK.
Click this LINK to view our Honduras photo galleries (newer photos appear toward the bottom of the individual gallery).
---